For the past few months whenever we get invited to go out somewhere or I have an impromptu meet up with the girls I find myself standing in the closet frustrated because the current clothes in my closet don't match the style I am trying to go for that night.... and hasn't for a long while. I am on a personal quest to get my wardrobe to match the point I am in my life right now. Most of the clothes I own are outdated and probably too small. It is safe to say that I have more than likely outgrown the stage in my life that my clothes reflect. The problem is that I SUCK at shopping and I have no idea how to even begin to choose a style to follow...... Thank GOD for Google! I typed in the search box the "must have items a woman should have in her closet" just to get a look at some the staple items I should (already but don't) own and to sort of give me a guide into updating. Here are a few I ran across: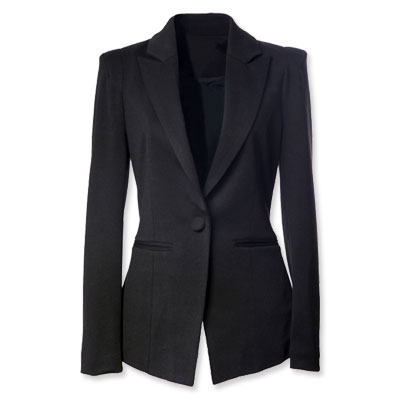 Black Blazer.
"A tailored blazer is classic, feminine and looks great on all body types. Pair it with anything: jeans, little dresses, trousers, skirts. Make sure to find one that fits you well and accentuates your waist—you don't want it to look like it's swallowing you!" - Courtesy of Instyle.com
Black pencil skirt. Is figure flattering and can be paired with any style top for an always polished finish. The one I used to have has become too small so it's time to replace it....
Little Black Dress (LBD). Apparently every woman should have one, it's sort of a go-to item because you can change up the accessories and shoes and it becomes a totally different outfit every time you wear it.
Cute pajamas.
I just thought to myself "why don't I own some cute sleep clothes?" Too bad I wasn't aware that big old t-shirts aren't always sexy to sleep in ...... Lewis had to inform me lol
Khaki pants. I know you are probably like "why in the world would she need khaki pants, is she trying to get a job at Target?" No, but khaki pants are all-season, can work in various outfits and are really cheap to update! I owned some at one point but I never thought to repurchase....


These are some of the items that were repeatedly suggested to have in a woman's wardrobe along with other essentials like a white button down shirt, cute flats and a black handbag. With these things I'm sure I can spin off an array of fun, sexy and casual outfits to help me as I evolve into this stage of womanhood I feel as though I am entering now.

What do you think? Do you have any of these items in your closet already? Anything else you think I should incorporate into my wardrobe?